Welcome to the IBM SPSS Statistics installation page!!
Through this page, you can find information about the IBM SPSS Statistics software, such as::
Software Installer Files
Installation and Activation Manuals
IBM SPSS Statistics Installation Files 29
(If the "Download" button is not working you should try another browser, ex. Firefox, Edge… or click on "Download" with your right mouse button and select "Open a new tab")
Atention:
The key for activating SPSS Statistics version 29 are provided by the Information Systems Department at CESPU. To request this key, access the following address https://ajuda.cespu.pt/licencasspss/index.php where you must authenticate yourself through your institutional email (Axxxxx@alunos.cespu.pt) and confirm that you need a key activation of SPSS.
It should be noted that the keys that will be assigned to you are for the licensing of SPSS Statistics version 29.
If your version is different from those mentioned, we advise you to uninstall the old version and install SPSS Statistics version 29. If you have any doubts about installing SPSS Statistics version 29, you should follow the tutorial below.
IBM SPSS Statistics Installation Tutorial 29
1. Download IBM SPSS Statistics 29 (version shown) using the buttons above.. 
    1.1 If the download is prevented for security reasons, choose the option "Keep"

2. After the download is finished, you must extract the folder inside the file, for that you need a software that allows it, such as 7-zip, PeaZip or WinRAR (these software are free).
If you don't have any of these softwares, you can download one of them through:
7-zip – https://www.7-zip.org/download.html
PeaZip – https://peazip.github.io/
WinRAR – https://winrar.br.uptodown.com/windows/download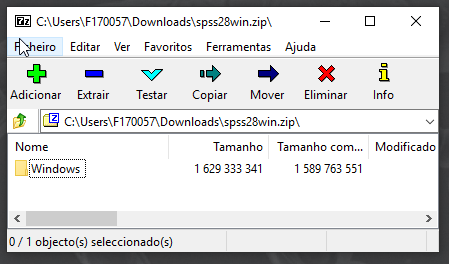 3. When you have extracted the folder, which is inside the downloaded file, enter that folder and open the file 'setup.exe'

4. When opening 'setup.exe' an SPSS Statistics window will open and you must select the option 'Install IBM SPSS Statistics 29'
4.1. A new folder will open where you should click onIBM_SPSS_Statistics_Client.

5. A new window will open and you should click on 'Next'
5.1 You will then need to Agree to the license terms and 'Next'

5.2 Again you will have to 'Next' and wait for SPSS to be installed.
5.3. By clicking on 'Finish' a new window will open for us to proceed with the licensing of IBM SPSS Statistics 29.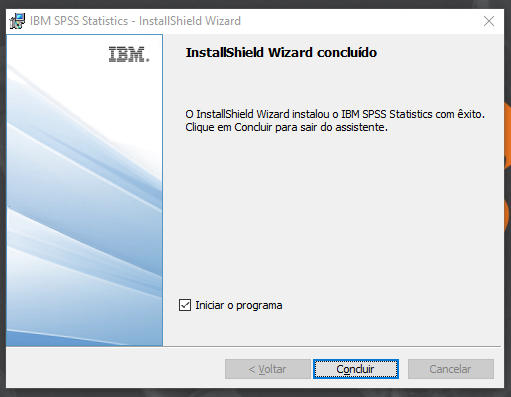 5.4 Having finished the installation and having IBM SPSS Statistics open, you must select the option 'Launch License Wizard'.
As informed above, the key is obtained through the link https://ajuda.cespu.pt/licncasspss/index.php but if you do not have this key, you can close the 'SPSS Statistics License Authorization Wizard' and open it when you already have it .

6. SPSS Licensing
6.1 In IBM SPSS Statistics Licensing box, click Next, then select "Authorized user license…", at the point where we are you need to put the Activation Code / Key, after putting in the indicated place, 'Add' and ' Next'


  6.2 To finish just press 'Next' and 'Finish' again
When all the steps above have been completed, you will be able to enjoy SPSS Statistics 29.
If you still have questions on how to install and/or license SPSS, you can contact us via email: helpdesk@dsi.cespu.pt